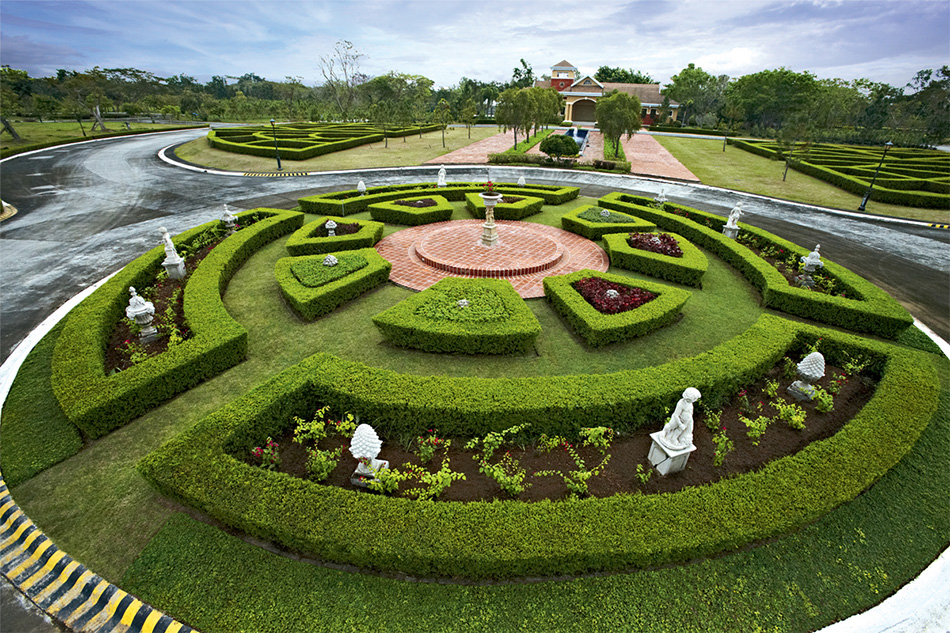 With its booming commerce, Sta. Rosa City Laguna, also dubbed the "Lion City," is quickly becoming the Makati of the South. It is in this premier city and hub of South Luzon that what are arguably the loveliest residential and leisure developments in the country like Brittany's Promenade can be found. Giving the city a rustic charm, Brittany - Vista Land's real estate arm, caters to those in the country's upper income bracket. Taking inspiration from the English countryside, Brittany's Promenade is 29 hectares of richly forested property deep in the heart of the city.
A tall, elaborate, 18th Century-inspired gate of black and gold welcomes one into the property. The entrance leads into a garden where a spire inspired by Nelson's Column in London's Tafalgar Square stands in the center. Ornately landscaped hedges surround the pathways that lead into the masterplanned development.
An English country manor serves as the community's clubhouse. The clubhouse comes with function halls, a basketball court, and a secret garden. One can leisurely walk in Brittany's Promenade to appreciate the clean and crisp Sta. Rosa air while listening to the songs of a rich variety of birds.
Nestled within a cluster of 9 exquisite residential properties, Promenade stands out by evoking images of the quaint English countryside where summer cottages and cozy mansions rest surrounded by hedged cobblestone paths and rich forest groves.
Two golf courses, the 27-hole Sta. Elena Golf and Country Club designed by Rober Trent Jones Jr. and the 18-hole The Country Club by Tom Wieskopf can be located within. A number of restaurants, supermarkets, outlet stores, sports facilities, and the Vista Mall Sta. Rosa can all be found within Sta. Elena City. The city certainly has become one of the most superb places to live in the Philippines.
Interested?
Call 8838103 or visit their Facebook page for more information.